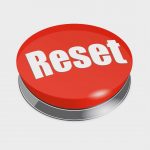 Brought to you through the fog of excruciating lower back pain* and fuelled by analgesics, today's episode is an interesting discussion about how we can Reset in everyday life.
Be it a daily action to clear your mind of the stresses of work, or a full-tilt reboot to change careers, a reset can be valuable, frightening and exciting.
Pamela and I discuss examples of where we've employed this either by choice or by circumstance, how this has affected our mental health and where we find ourselves on the cusp of another opportunity to press the big red button.
Lift with your knees, kids!
#keeptalking
Simon & Pamela